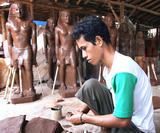 Struggle of the company in Indonesia after the earthquake
AFTERSHOCK: A year after the 6.3-magnitude quake, aid still has not reached all the affected industries, although the UN and other agencies' efforts
AFP, Kasongan, INDONESIA
Sunday, 27 May 2007, Page 11
A man who worked in the pottery workshop in Bantul, Indonesia, on May 20. Approximately 95 percent of companies in the worst-hit Bantul district south of Yogyakarta that fully or partially destroyed, a report the World Bank's recently become a very effective last year shows the earthquake.
PHOTO: AFP
Pottery maker Ariyati appear on the cans, vases and land animals crammed him into a small workshop in the middle and he was afraid for the future.
Since last years devastating earthquake, he has been diligently trying to ply her trade in the small village Kasongan artisans who have a proud history of ceramic and clay goods.
But he was a smashed brick oven in the 6.3-magnitude quake, which lay waste to villages on the main island of Java, leaving him 47 years old mother is not able to complete the craft and meet the demand from customers.
"Earthenwares that does not dry in the oven can only be sold with a very low price," said Ariyati, a husband who died a few months ago.
"It's difficult to rebuild my business," he added.
In 12 months since the earthquake, the UN and other institutions has been the traditional industries such as pottery, weaving and furniture production for more than 4,000 households in the worst-performed.
However, the scale of the tragedy, with 5778 people killed and nearly 140,000 houses destroyed in the main island of Java, this means that aid has not reached all those affected.
Approximately 95 percent of companies in the worst-hit Bantul district south of Yogyakarta and Klaten to the northeast part or completely destroyed, according to this week's World Bank report to the tragedy.
Antara 45 sampai 50 persen dari usaha kecil yang tidak sepenuhnya diperbaiki 12 bulan kemudian, dan dana dari pemerintah dan badan-badan untuk membantu mereka semua telah sembuh jatuh singkat, kata bank.
Many of the business owners who have resumed operations that have to meet the cost of debt - such as reconstruction of damaged buildings and the replacement of materials and equipment.
"The key funding gaps still provide compensation for losses to the private sector and in health and education. More than half of businesses affected have still not returned to earth a full pre-sales and the unemployment rate has increased sharply," said the report.
Others in the workshop in Kasongan, Painem sit on low wooden chairs that gently molding pot. He is too worried about the future after her 20 million dollar loan from the bank to rebuild her workshop in the Shattered earthquake.
"There are a lot of money and I live on credit with high interest," he said, adding that he was handed a certificate of ownership of land as collateral for loans.
"I use the money to build a brick oven and to buy materials," he added.
Other, more optimistic, although the loss, they can recover. Sunarno Gondo, 65, and many others in the village in Klaten Mlese have been given funding from the World Bank managed fund to rebuild their homes.
Sunarno said the financial burden lifted, he can concentrate on the reconstruction efforts to make and sell various types of local rice snacks called krupuk characters, the business with his wife before he died he was in the earthquake.
//www.taipeitimes.com/News/biz/archives/2007/05/27/2003362695
"I'm sure my wife will love the idea," he said.
This has been viewed 1443 times.