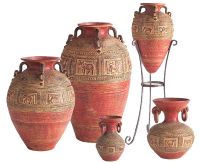 Terracotta
, earthenware, pottery for Sale.
[Thailand]
Posted Date: September 17, 2008 Expiry Date: September 16, 2009
Free Member | Rate this company
Description
Terracotta, earthenware, pottery for sale. Custome Size & Design are available. Handmade in Thailand. Very strong. Fire at higher grade 1000C. Hand-carved and hand-colored. Come as one piece, a collection as shown in photo or as a set with metal stand (also shown in the photo).
Many more models are available. Please contact the photo to Apiwat (at) apmbkk (dot) com
Other information
Location: Thailand
Minimum order: 5-1000
Price for Minimum Order: TBA
(This price is only for minimum order. For large quantities, please contact)
Sample Available: Yes
Price for sample: The FOB price
Example of charges: TBA
Sample Delivery Time: 4-6 weeks
Method of payment: bank transfer
Related Categories: Pottery & Enamel, Ceramic and porcelain
Related Products: terra cotta, earthenware, 'Pottery
This company is registered as a free member and is not verified or authenticated by TradeKey.com. Click here to learn more about Goldkey and Silverkey membership
to learn more.....>>>>>
CLIK HERE
.